[et_pb_section fb_built="1″ _builder_version="4.4.4″ custom_padding="1px|||||"][et_pb_row _builder_version="4.4.4″][et_pb_column type="4_4″ _builder_version="4.4.4″][et_pb_cta title="Sleep Diagnostic Test: ApneaLink™ Plus" _builder_version="4.4.4″ header_level="h1″ background_color="#0c71c3″ custom_padding="||0px|||" header_text_shadow_style="preset1″][/et_pb_cta][/et_pb_column][/et_pb_row][et_pb_row _builder_version="4.4.4″ custom_padding="2px|||||"][et_pb_column type="4_4″ _builder_version="4.4.4″][et_pb_text _builder_version="4.4.6″ hover_enabled="0″]
ApneaLink – identify those who are most at risk
Easy and accurate
Comfortable and convenient
Simple reporting with graphic risk indicators
Optional oximetry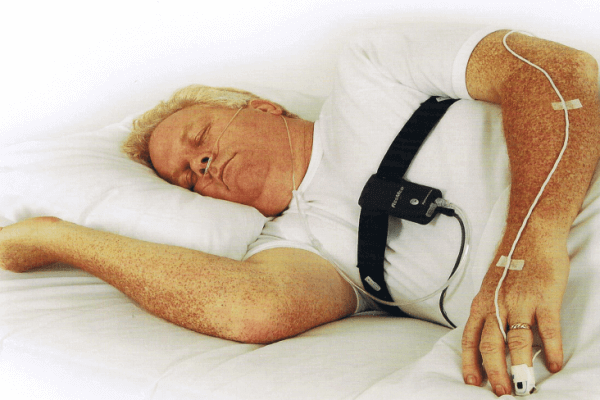 Which patients need to be screened?
A range of symptoms and comorbidities may accompany SDB.
Loud irregular snoring
Pronounced daytime fatigue and drowsiness
Impaired concentration and irritability
Hypertension
Stroke
Diabetes Mellitus Type II
Erectile dysfunction
Sleep apnea – a 'hidden epidemic' for too long
Sleep apnea has been silently troubling millions of people worldwide. Obstructive sleep apnea (OSA) is one of the most common forms of sleep-disordered breathing (SDB). SDB affects not only patients' sleep, but their waking lives, health and safety. The risks are multiplied for patients with hypertension, cardiac problems and diabetes.
Easy for patients to use in the comfort of their own home
Worn like a belt, around the chest area
Lightweight, does not disrupt sleep
Easy to use, attach and detach
Untreated SDB – the consequences
One out of 20 adults suffer from SDB1.
A significant percentage remain untreated.
9.1% of work-related injuries are attributed to sleep disorders2 and people
with untreated sleep apnea are at increased risk of a workplace accident.
SDB is associated with serious comorbidities such as hypertension, cardiac problems and diabetes.
1. Young T, Peppard P, et al. Epidemiology of OSA. Am J Respir Crit Care Med 2002, 165:1217-35
2. Wake up Australia: the value of healthy sleep. Report by Access Economics Pty Ltd for Sleep Health Australia: 2005
[/et_pb_text][/et_pb_column][/et_pb_row][et_pb_row column_structure="1_2,1_2″ _builder_version="4.4.4″][et_pb_column type="1_2″ _builder_version="4.4.4″][et_pb_button button_url="https://resindo.com/wp-content/uploads/2020/04/Apnealink-Plus-Report.pdf" button_text="Example Report" button_alignment="left" _builder_version="4.4.4″][/et_pb_button][/et_pb_column][et_pb_column type="1_2″ _builder_version="4.4.4″][et_pb_button button_url="https://resindo.com/contact-us/" button_text="Contact Us For Detail" button_alignment="left" _builder_version="4.4.4″][/et_pb_button][/et_pb_column][/et_pb_row][/et_pb_section]